During October 2011, I traveled to southern China for a short tour of Guanxi. Guanxi lies some ten hours by train from Hong Kong and features stunning sceneries that attract Chinese tourists and foreigners alike. Famous mainly for karst landscapes around Yangshuo and the beautiful countryside, the region is also particularly interesting for its historic villages and minorities. This part of China has a lot to offer and I guess it should be visited unhurried and relaxed, with plenty of time to hike, bike and tour the surroundings... something I was not entirely able to do during my short stay.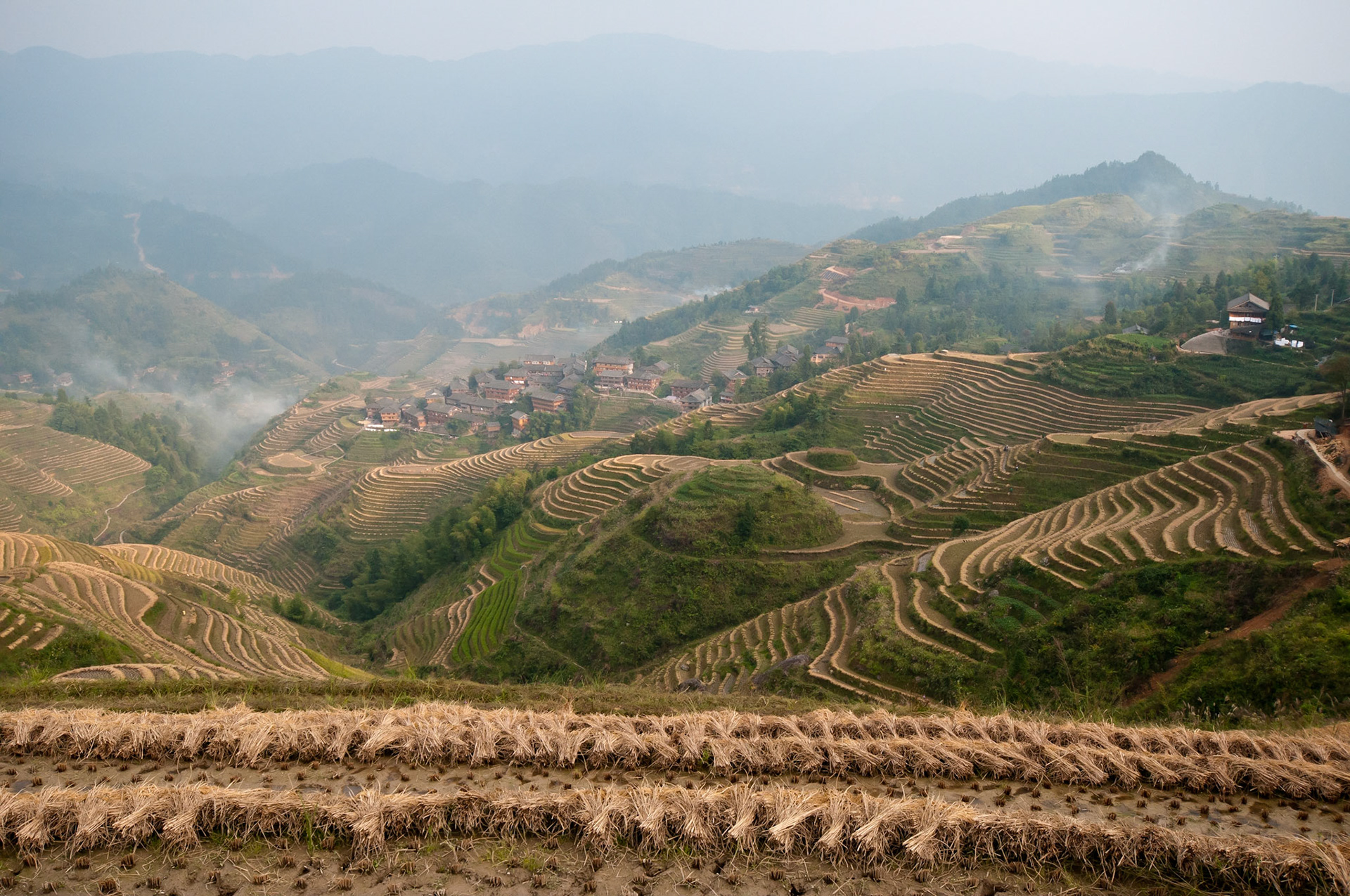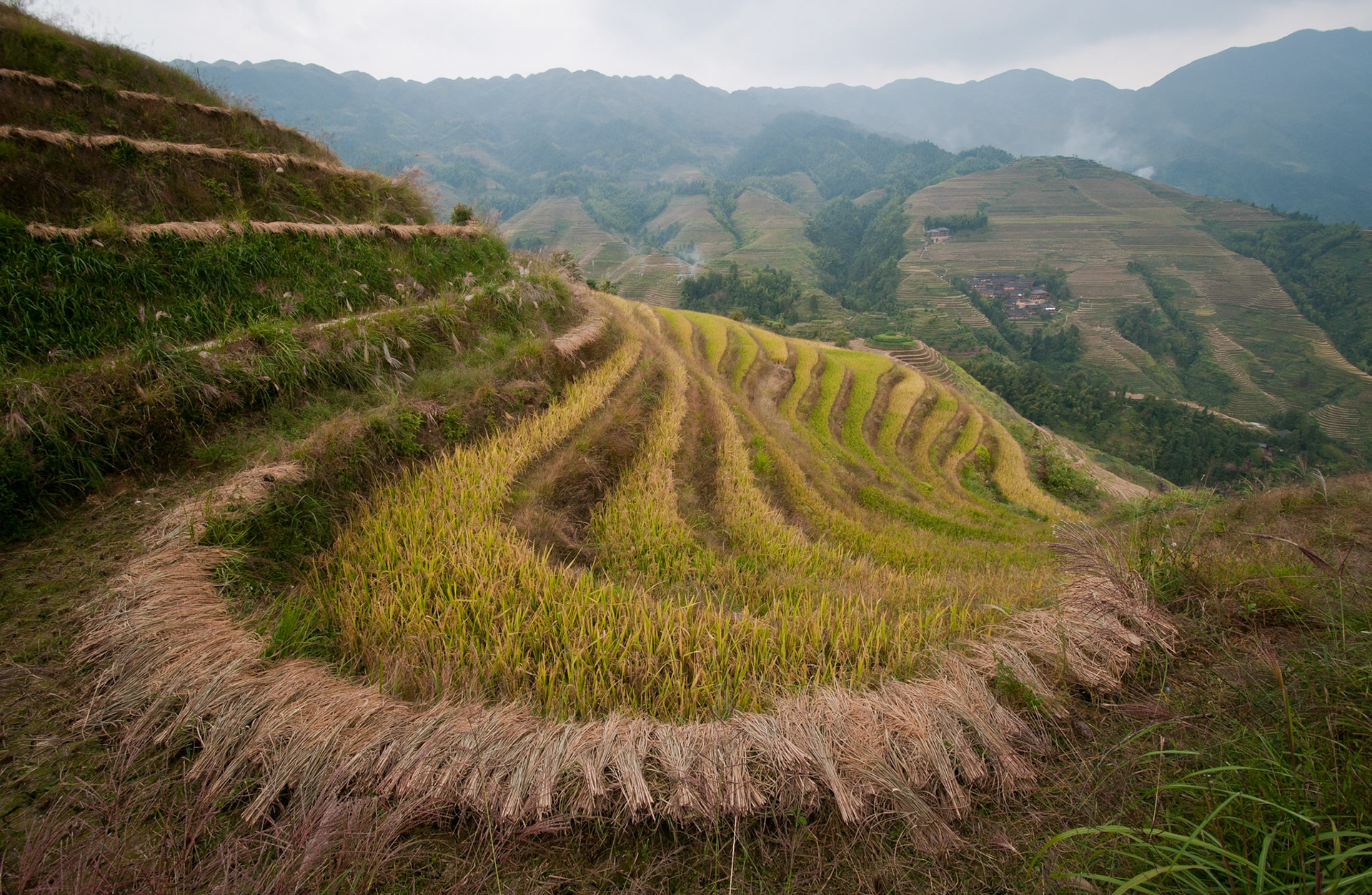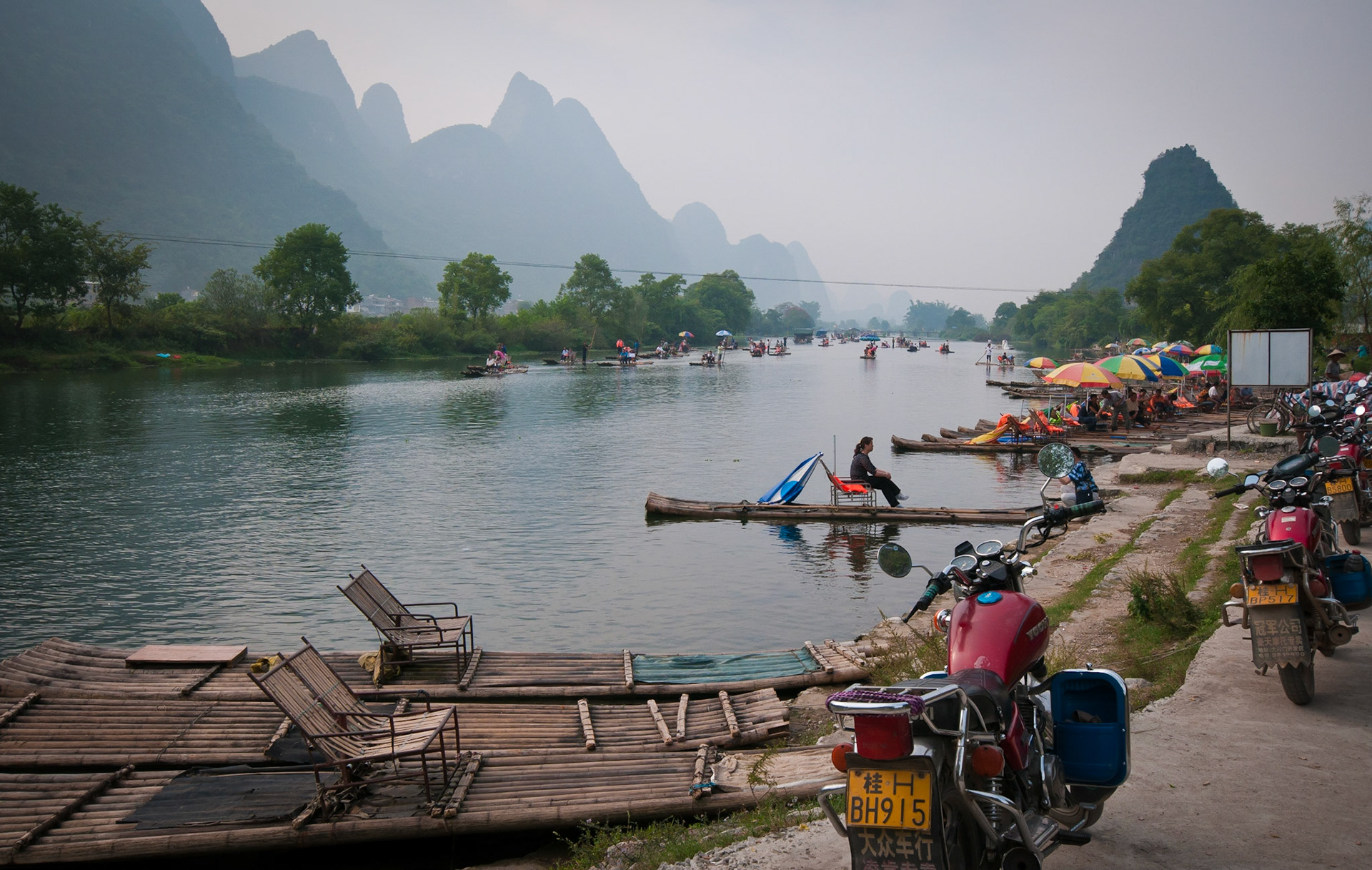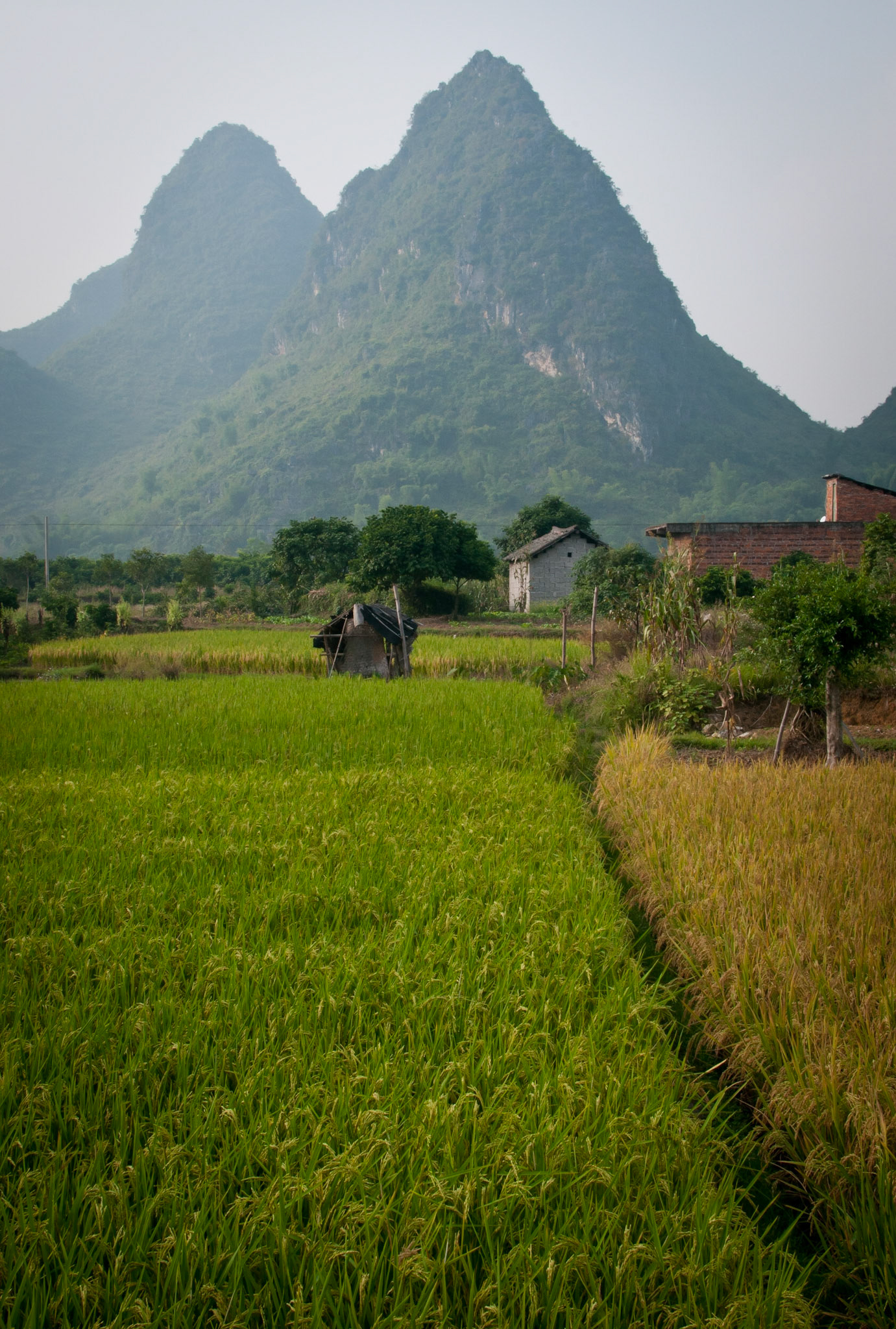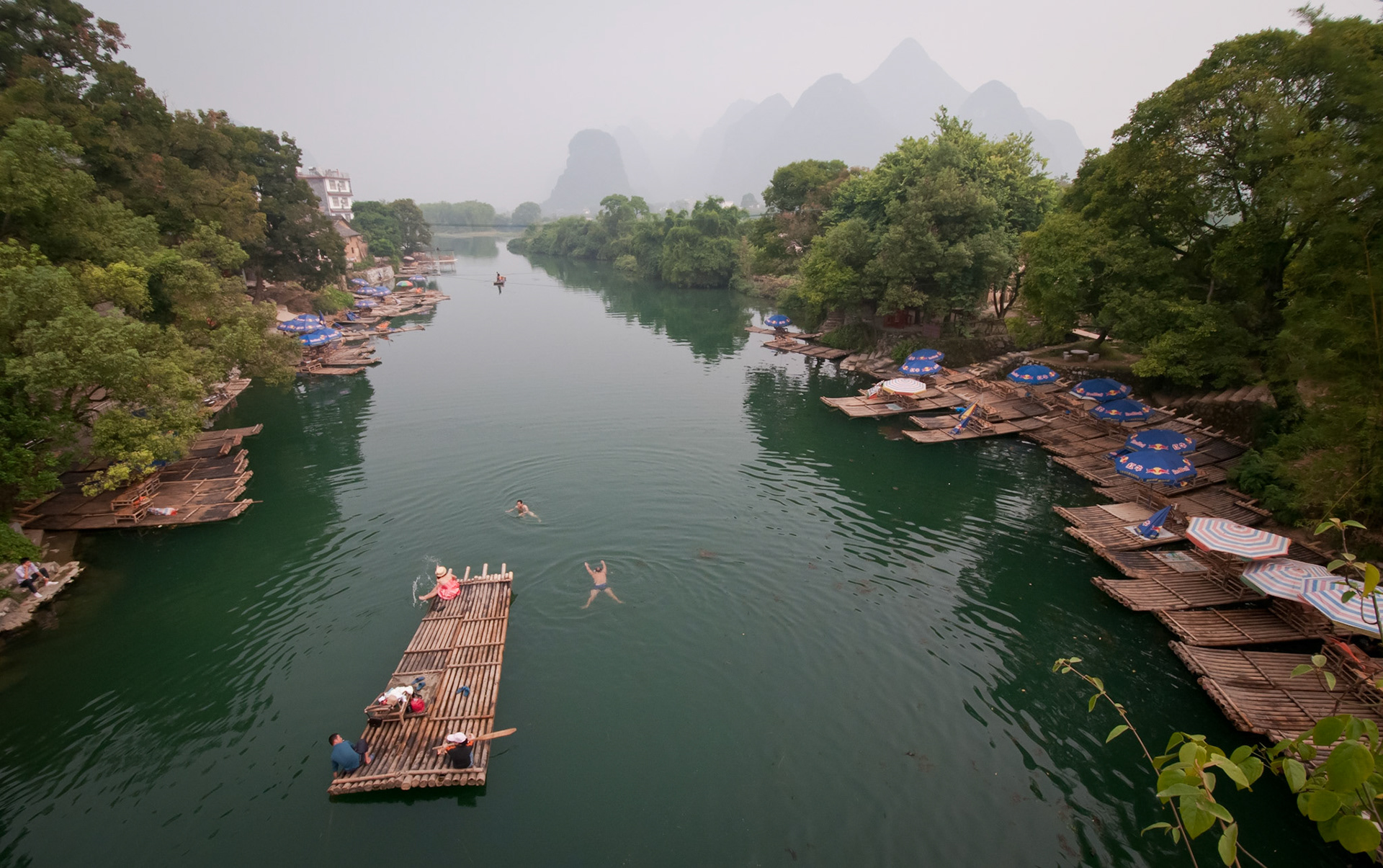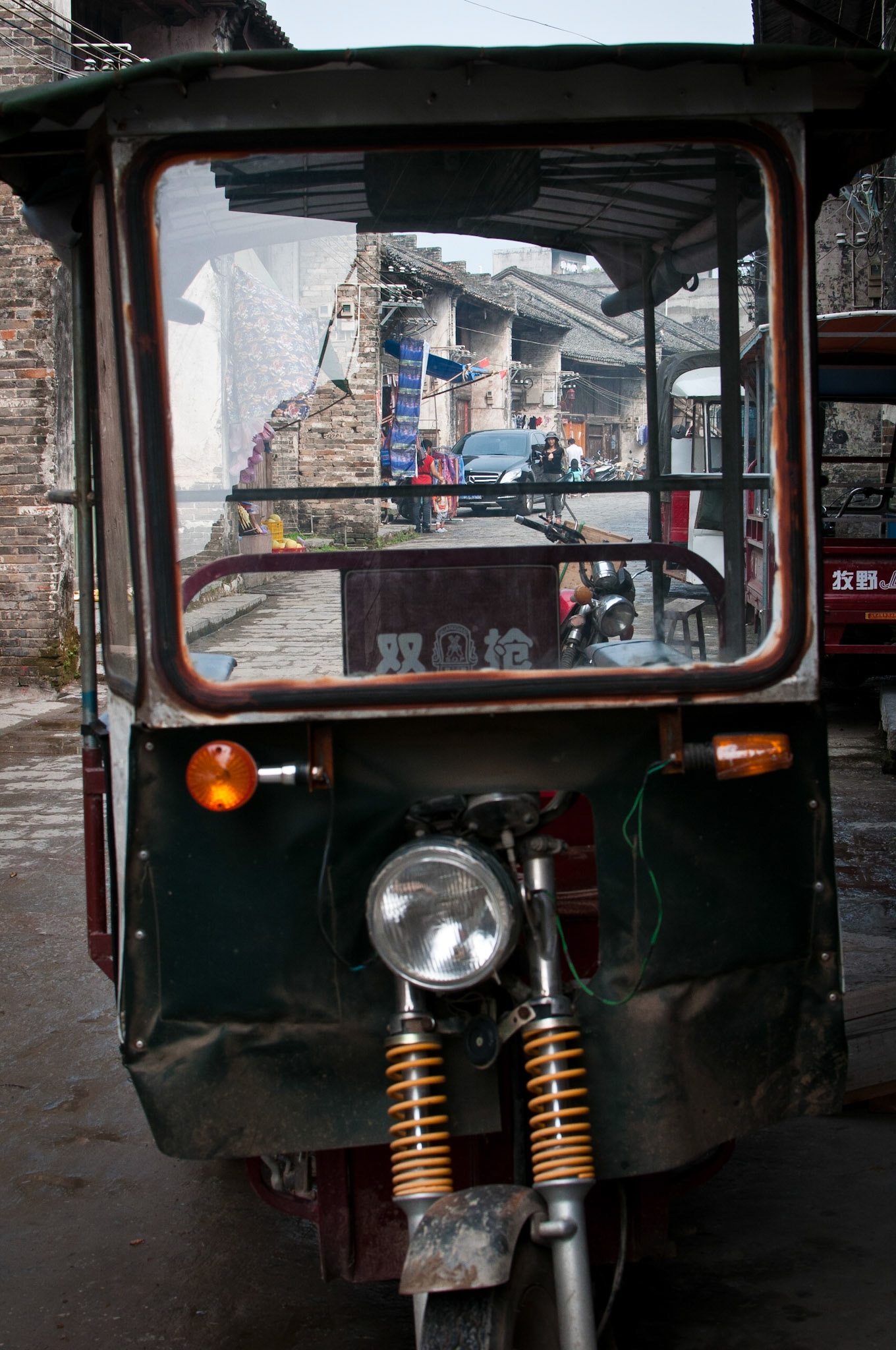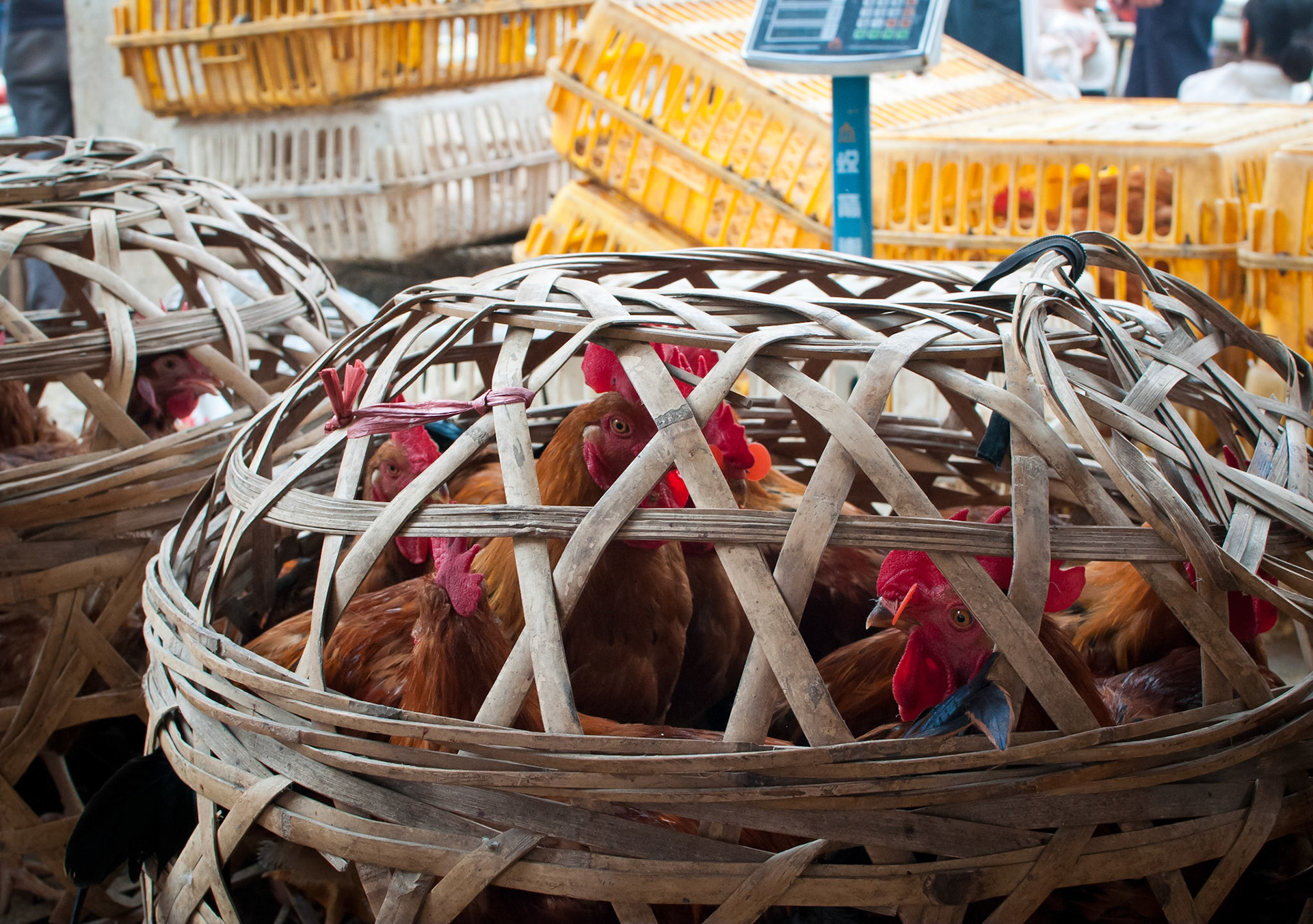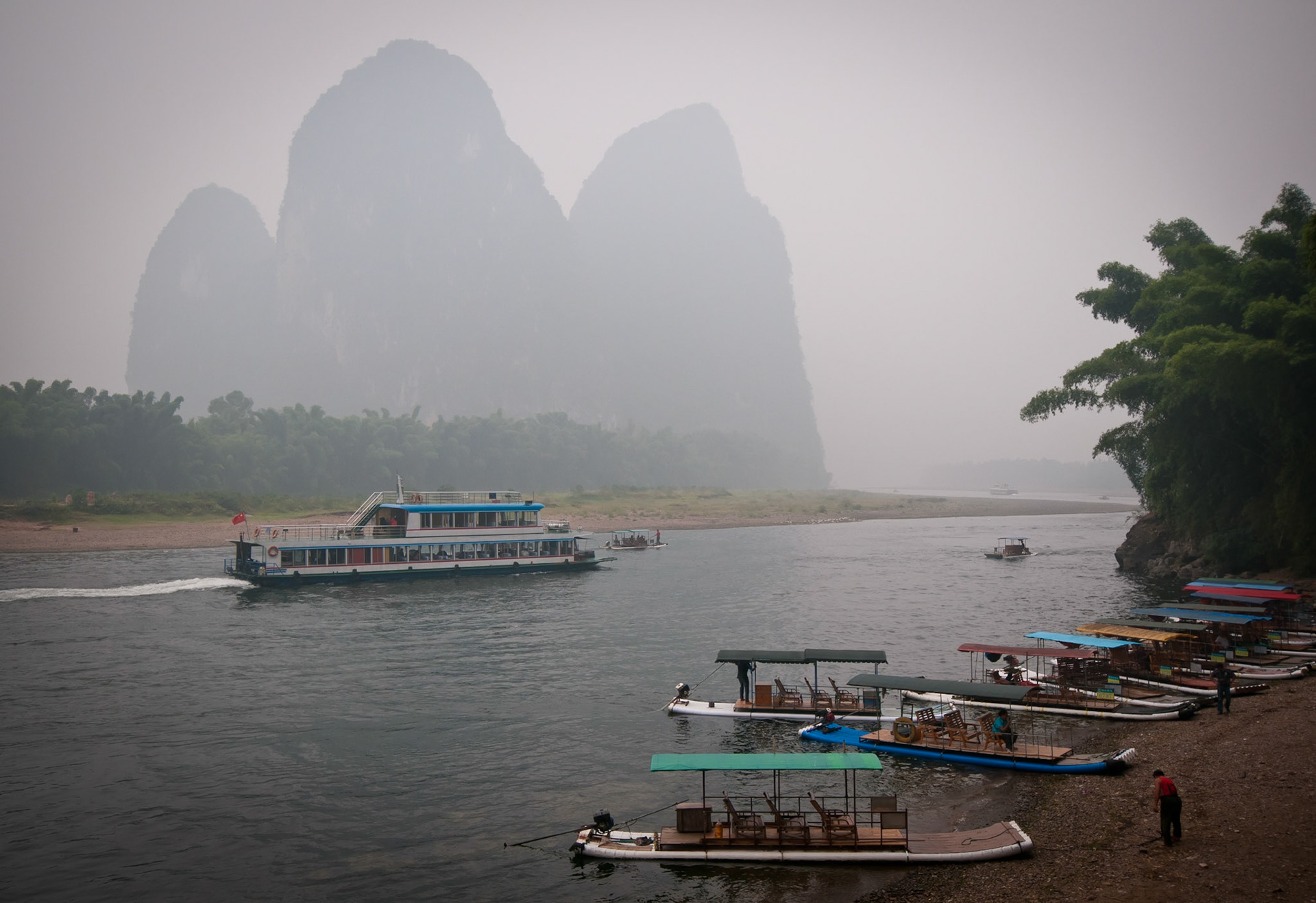 The trip started in Hong Kong. Traveling north on the efficient East Rail metro line, I quickly left the hectic but irresistible city center, in my pockets the train ticket for the Shenzen-Guilin "hardsleeper" and a bunch of printouts with reservations for guesthouses and local buses I arranged during the weeks before. The metro leaves you at the border with China, and you have to cross it on foot. I've always found crossing borders by land fascinating and this time was no different: lining up with other travelers in a mess of bags, crossing passageways under the scrutiny of guards, waiting your turn the get the passport checked... pointlessly anxious that something in the visa might be wrong. Luckily, it was not a busy day and I could work through customs rather quickly (I was told that during crowded days it can take even two or three hours!).
In Shenzen, a short walk led me to the train station where I patiently waited for my hardsleeper. Night trains were one of my sweet memories from my previous adventure in China (read the story on AlphaHutte) and I was secretly anticipating experiencing again this genuine piece of life of inland Chinese. When the train arrived, and I got on it together with some hundred other fellow passengers, I knew nothing had changed: different region, yet same bunks layout, efficient car ladies and colorful mixture of Chinese characters. The 10-hour night trip was nice and comfortable.
The next morning I was in Guilin. I had decided to head straight to Longji Rice Terraces since Guilin seemed of no interest at all, as I got confirmation once arrived. To my own surprise, I found right away the local bus I had arranged: luckily, I had asked the bus' licence plate and this was just perfect because not a soul in town spoke any foreign language, not even clumsy hand signs. During the next three and a half hours of bus, the busy city neighborhoods left way to a more pleasant countryside and then to lush hills and valleys that characterize northern Guanxi. Entering from the northeast gate of the Longji Rice Terraces Scenic Area, the bus left me in the little village of Dazhai where I met the landlord of my guesthouse, which I had chosen in Tiantouzhai. To be honest, I wasn't expecting anybody and was ready to head up the trail to Tiantouzhai (which is the highest and less touristic village in the area), but it seems locals consider it a duty receiving you and walking you to your guesthouse. Escorted by my landlord, which was equipped with a pink umbrella to shade the sun, I hiked uphill savoring the beauty of the place.
Longji is pretty famous in China and you can understand why: rice terraces are impressive, spectacularly laid along hillsides, but also small villages are well-preserved and have a lot of charm. Locals are kind and very open, as one would expect in the countryside, and mainly belong to Zhuang and Yao minorities. A day was enough to visit all the scenic spots, hike part of the trail towards Ping'an (another village in a neighboring valley) and relax in the guesthouse savoring some of the interesting local dishes (the bamboo chicken was surprising).
Alas, time was short and my schedule pressing: another local bus brought me back to Guilin and from there I took a public coach to Yangshuo. Yangshuo is one-hour south of Guilin and nothing less than amazing. The town, still with a lot of character but probably grown too much and surely too touristic, is a nice place to eat and have fun. The real attraction, however, is the countryside: karst peaks are everywhere, spectacular in shape and covered with vegetation, all around bucolic fields and villages with tranquil rivers sailed by bamboo rafts. I was based in Chaolong, a small hamlet to the west of town and perfect to explore Yulong River. The afternoon bike tour along the river from Chaolong to Dragon bridge was extremely pleasant: Chinese tourists enjoy rafting or relaxing by the banks of the river but, moving a bit further away you can experience some genuine rural life and get lost in the beautiful fields. That night, food in downtown Yangshuo also left an impression: roasted donkey and fried frogs, served in spicy (very spicy) sauce... something not that common even for a seasoned asian traveler like me.
The next day was dedicated to the land east of Yangshuo, on the opposite side of Li River. I was told that particular day there was a farmers' market in Xingping and, knowing my irrepressible attraction for markets, quickly headed there on a rickshaw. The market was very typical, displaying the usual colorful array of vegetables, livestock, spiced foods, clothing and tools... and unusually clean for being Chinese. Xingping itself is charming: a very well-preserved historic little town, full of tiny alleys and old shops, it's the sort of place where art students train their sketching and painting skills. The countryside all around and along Li River is also particularly nice, with more karst landscapes and rural settings. The river is always bustling with tourist boats carrying thousands of local tourists to admire the famous view printed on the back of 20 yuan banknotes. Unfortunately for me, weather was foggy and time very little,  so I could not fully appreciate the surroundings. This area surely deserves more time to be explored, whether hiking one of the many trails, navigating Li River or simply getting lost with a bike in the fields.
The trip back to Yangshuo, even if spoiled by some unpleasant discussions with rickshaw drivers that wanted to leave me in the middle of nowhere, was nonetheless another opportunity to see more of this pleasant scenery. I also stopped in Fuli, a little village nearby Yangshuo with some charm and a few good buildings.
Once in Yangshuo, time to eat yet other local food, head to the bus station to catch the public coach and in no time I was in Guilin. My hardsleeper to Shenzen was waiting and soon I was asleep in my bunk, dreaming of the amazing places I had experienced in this new (for me) part of China.
Published in February 2012.